Jurassic World: Dominion Dominates Fandom Wikis - The Loop
Play Sound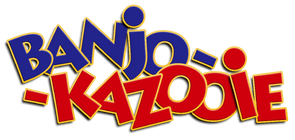 The Banjo-Kazooie series is a set of video games developed by the UK-based company Rare, Ltd. The first game, Banjo-Kazooie, debuted in 1998 for the Nintendo 64. A sequel was made in 2000 for the same system titled Banjo-Tooie.
In 2003, an inter-sequel that takes place between the first two games, Banjo-Kazooie: Grunty's Revenge, was released for the Game Boy Advance, and in 2005 a spin-off racing game, Banjo-Pilot, was also made for the Game Boy Advance. Two ports of Grunty's Revenge, called Banjo-Kazooie: Grunty's Revenge Mobile and Banjo-Kazooie: Grunty's Revenge Missions, were later made available in 2004 and 2005 as applications for download on cell phones.
Although all four titles in the series were made for Nintendo systems, Rare was bought by Microsoft in September of 2002. The next game in the series was therefore produced for the Xbox 360. That game, titled Banjo-Kazooie: Nuts and Bolts, was released in November of 2008. To celebrate this release, Microsoft and Rare also released updated versions of the original Banjo-Kazooie in December 2008 and Banjo-Tooie in April 2009, both of which are currently available for download on Xbox Live Arcade.
Banjo-Kazooie Series Theme
When window pops up click open and wait for the music tune to load.

​
Games in the Banjo-Kazooie Series
Main Games
Spin-Offs and Ports
Related Games
These games are also related to and have special significance within the Banjo-Kazooie series:
Unreleased
Game Logos
See also:Banjo-Kazooie (series)/Gallery