Jurassic World: Dominion Dominates Fandom Wikis - The Loop
Play Sound
Glitter Gulch Mine is the second world in Banjo-Tooie. Entered through an old mine shaft in the Plateau, it is a large underground cavern filled with mountains of colorful, glittering gems and wondrous rock formations (many of these are known as Glitter). The cavern was turned into an ore mine and filled with an intricate system of mine tracks. The mine was long since abandoned though, leaving behind only Canary Mary, Bullion Bill, and many Billy Bobs.
Down even deeper, beneath the actual mines, is a complex network of tunnels known as the Ordinance Storage. Small, dingy, wooden shacks (such as the Power Hut, Crushing Shed, and Prospector's Hut) are littered all throughout the mine. Parts of the mine (especially underground) are very dark and require the use of generators to power up the lights. This level was to be featured in Banjo-Kazooie but was not finished in time, so it appeared in Banjo-Tooie.
Other notable landmarks include the Gloomy Caverns, fungi-ridden caverns with small prison cells, and Bullion Bill's shack. Streams of water constantly flow through the mines, and most likely come from the Waterfall Cavern.
Areas/Points of Interest/Shortcuts
Ordnance Storage Entrance
Prospector's Hut - connects to the Prison Compound in Mayahem Temple.
Waterfall Pond
Train Rails
Chuffy - Chuffy connects to all other Train Stations with an activated Train Switch.
Fuel Depot - connects to the Space Zone in Witchyworld.
Ore Mountains
A Talon Torpedo Door leads to the icy side of Hailfire Peaks. Specifically, it leads to an ice safe, from which the Mega Glowbo can be received (no other areas of Hailfire Peaks can be accessed).
Moves Learned
Glitter Gulch Mine - (85 Notes)
Press the A button to jump, then hold the Z button for a longer, more powerful version of the Beak Buster.
Ordnance Storage Area - (95 Notes)
This move is only available during scenarios where the Breegull Blaster is being used. Press the B button to make Kazooie lunge forward and stab headon enemies.
Collectibles
Glitter Gulch Mine - Behind the rock leading down to the mine by Mumbo's Skull.
Glitter Gulch Mine - On a mountain of purple gems next to the entrance.
Toxic Gas Cave - Beneath a boulder inside the Toxic Gas Cave.
Train Station - inside a crate with the Rareware symbol on the side.
Beneath the boulder outside of the Prospector's Hut.
Atop the sign reading "Glitter Gulch Mine" at the entrance. Can be gotten either from jumping from the entrance rope or using Springy Step Shoes.
At the bottom of a water tank in Water Storage.
Beating Canary Mary a second time wins this Cheato Page.
Treble Clef
In the muddy waters of the Water Storage Room, acessable through the waterfall Cavern or a part of the main area.
Minigames/Shootouts
Canary Mary's Minecart Races
Characters
Enemies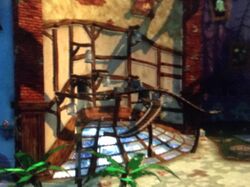 Part of Glitter Gulch Mine, specifically the pile of crystals near the beginning, makes an appearance in the game's third world, Banjoland. They are under a glass case, and various mine cart rails are held up by poles, the top pole in the center being especially unstable.
Banjoland Info
"Banjo-Tooie's second world, originally planned for the first game. Home to Canary Mary, whose races became button-based when all that analog-stick rotating began to scorch players' palms."
Names in Other Languages
Language
Name
Meaning
Japanese
キラリンこうざん
Kirarin Kouzan
Glittering Mine
Spanish
Mina del Barranco Brillante
Bright Gulch Mine
French
Mine miroitante
Glassy Mine
German
Klunkerkluft-Mine
Glitzerschlucht-Mine (BKNB)
Sparkler Gap Mine
Glitter Gulch Mine
Italian
Miniera Rio Dorato
Golden River Mine
Trivia
Glitter Gulch Mine, along with Cauldron Keep, is one of only two worlds in Banjo-Tooie that doesn't contain Snapdragons.
A "gulch" is a "V" shaped valley formed by erosion, typically formed by a river. The river at the bottom of the mine clearly is unlike real-life gulches, prompting where the gulch in Glitter Gulch Mine is.
Bullion Bill states that "...TNT sticks are threatening my mine..." implying that Bill owns Glitter Gulch Mine.
As stated in Banjoland in Banjo-Kazooie: Nuts and Bolts, this was originally planned for the first game.
During planning documents for the first game, the heaps of gems were only heaps of coal, and Mumbo's Skull occupied where Wumba's Wigwam was going to be, and a Whack-a-mole type mini game were to occupy the area in the big waterfall cavern where one path leads you to the ice side of Hailfire Peaks.
Gallery

Worlds from Banjo-Tooie