Welcome, L285, to the Banjo-Kazooie Wiki, the Banjo-Kazooie gaming wikia!
We hope that you like this wikia and you decide to stay. Feel free to edit and contribute some of your Banjo-Kazooie knowledge. However, do not remove important information while fixing others' articles. Additionally, you must comply with all of the normal Wikipedia policies of this site; that will keep the wiki running smoothly. Here are some links that may help you.
Our polices (Please read this first before you edit. Thanks)
General Wikipedia polices (The External Wikipedia policies)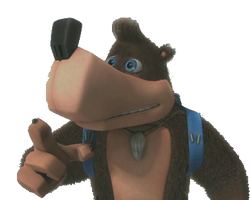 Other Important links
PS: If you are under the age of 13, please do not release personal information about your self. This is a wikia wide policy.
Again, welcome and we hope you enjoy your stay! -- Toomai (Talk) 15:35, 4 April 2009
---
Welcome
Welcome to the offical Banjo-Kazooie Wiki! If you need any help, any, ask myself or another administrator. Most of all, have fun!
Re:Mistake
Ah, yes. Lol I'm bad with languages, Dutch, German, Polski, Norge, it is all so confusing for me :P Thanks,

Chicken7 >talk >sign

01:31, 8 April 2009 (UTC)
Reading your user page
6.1 Feet tall? I'm 14 and 5.6 Feet or 1.72 meters tall! I have one friend who is 6.3 at 14 turning 15! Also, if you ever want to chat (you seem to be a down to earth person, thank God), talk on the IRC. IRC stands for Internet Relay Chat. Wikia uses Freenode as a server and we chat in the channel #Banjo-Kazooie. For a new user like you, use this link.Firstly, you must change the IRC box from Mibbit webirc to Freenode (listed in the scroll box). After that, you put a Nick name in (I am always Arav). For you (L285) is sastifactory and type in Banjo-kazooie in the chat box (leave the #). If you like Star Wars, just type /join #SWFanon. To join channel, you must always type /join Channelhere. Hope that helps. --

Arav the Undersith 07:27, 8 April 2009 (UTC)
Thanks, I might go on sometime--L285 13:53, 8 April 2009 (UTC)
Community content is available under
CC-BY-SA
unless otherwise noted.