Line 24:
Line 24:
 

Again, welcome and we hope you enjoy your stay! -- [[User:Ryan6897|Ryan6897]] ([[User_talk:Ryan6897|Talk]]) 18:40, January 26, 2013

 

Again, welcome and we hope you enjoy your stay! -- [[User:Ryan6897|Ryan6897]] ([[User_talk:Ryan6897|Talk]]) 18:40, January 26, 2013

 

{{boxes end}}

 

{{boxes end}}

 
+
 
+

== Image names ==

 
+
 
+

Do not upload images with names like "$T2eC16JHJF8E9nnC6VKFBRKTG1rjK!~~60 57"; such names make it impossible to know what the image is just by reading the name and are equally impossible to type. Instead, use short and descriptive names like "BKMousepad" or "MumboPlush". [[User:Toomai|Toomai]] [[User talk:Toomai|Glittershine]] <choose><option>eXemplary Logic</option><option>The Stats Guy</option><option>The Table Designer</option><option>The Image Guru</option><option>[[Image:Banjo_icon.png|20px]]</option><option>[[Image:Kazooie_icon.png|20px]]</option></choose> 15:18, March 4, 2013 (UTC)
---
Latest revision as of 15:18, 4 March 2013
Welcome, Metalex123, to the Banjo-Kazooie Wiki!
We hope that you have fun here and decide to stay. Feel free to edit and contribute some of your Banjo-Kazooie knowledge. Please comply with all of the normal Wikipedia policies of this site; that will keep the wiki running smoothly. Below are some links that may help you.
Our polices
General Wikipedia polices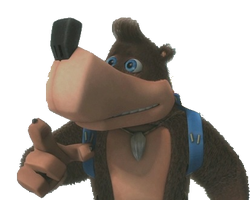 Other links
If you need any further help, feel free to ask myself or another administrator.
Again, welcome and we hope you enjoy your stay! -- Ryan6897 (Talk) 18:40, January 26, 2013
Image names
Do not upload images with names like "$T2eC16JHJF8E9nnC6VKFBRKTG1rjK!~~60 57"; such names make it impossible to know what the image is just by reading the name and are equally impossible to type. Instead, use short and descriptive names like "BKMousepad" or "MumboPlush". Toomai Glittershine

15:18, March 4, 2013 (UTC)
Community content is available under
CC-BY-SA
unless otherwise noted.