Welcome, Votaw, to the Banjo-Kazooie Wiki, the Banjo-Kazooie gaming wikia!
We hope that you like this wikia and you decide to stay. Feel free to edit and contribute some of your Banjo-Kazooie knowledge. However, do not remove important information while fixing others' articles. Additionally, you must comply with all of the normal Wikipedia policies of this site, that will keep the wiki running smoothly. Here are some links that may help you.
Our polices (Please read this first before you edit. Thanks)
General Wikipedia polices (The External Wikipedia policies)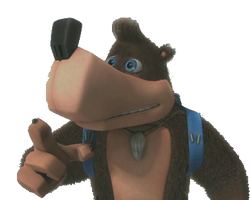 Other Important links
PS: If you are under the age of 13, please do not release personal information about your self. This is a wikia wide policy.
Again, welcome and we hope you enjoy your stay!
---
Welcome
Welcome to the official Banjo-Kazooie Wiki! If you need any help, any, ask myself or another administrator. Most of all, have fun! --

Arav the Undersith 08:37, 20 February 2009 (UTC)
Rollback
I've promoted you to rollback seeing that I need someone else to help on this wiki. Good luck! Jello Rabbit 13:37, June 6, 2011 (UTC)
At least hes promoted to an admin and bureaucrat now because the joker decided to promoted him to an admin.--Flysic 22:55, October 27, 2011 (UTC)
Game Guide App
Hi, Votaw!
I'm going to be working on the site tomorrow in an effort to build an entry for our Game Guide App. As such, there may be some tweaking of the category structure that would result in better flow on the site and allow a cleaner app interface. Keep in mind that admins have access to the app page in case you might want to change anything around later.
Once I'm finished, I'll let you know which categories are being used for the app and make a forum post letting regular users know. It hopefully won't take very long; if you've got any questions, please don't hesitate to poke me.
Community content is available under
CC-BY-SA
unless otherwise noted.